We all know that Facebook is a great social avenue for adding clients to your business, but do you know how to create Facebook business page 2018 for your business? Don't worry if not because today I want to touch on exactly how to get that done. It's an easy enough process if you know where to get started, but unfortunately, Facebook doesn't make finding things easy, so here's your step by step!
How to Create Facebook Business Page 2018
Step 1: Select Your Page Type
The first step in setting up your Facebook business page is to head over to Facebook and click the "Create Your Facebook Page" link here.

Be sure to choose the category of page that best suits your business and if you aren't sure, you can always track down one of your competitors Facebook pages and see how they registered their page.
Step 2: Choose Your Category, Profile Pic, and Cover Photo
Once you have chosen the type of page you will be setting up, you want to use the drop-down box to categorize your business.

When you have selected your category, click the "Get Started" button!
Now you will be asked to upload your profile picture.

Choose a profile picture that is clean and that helps your customers to recognize your page as an official page. For example, you may choose your top-selling product, your business sign, or your logo.
Next, you will be asked to upload your cover photo.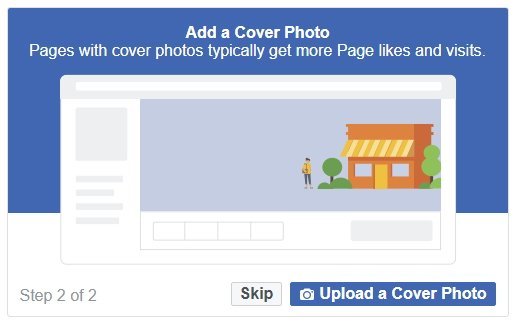 Again, you want to choose a clean image that will attract potential clients but also gives the professional appearance of your business or brand.
Step 3: Choosing Your Custom URL
Once you have your category selected and profile and cover photos uploaded, your page will be created. From here you want to start by choosing your custom Facebook page URL. For example, if you sell coats, you may choose "http://www.facebook.com/greatcoats".
To set your custom Facebook URL, look to the left of your screen underneath your page profile picture. You will see a small link that looks like this:

Click this link and you will see a popup that looks like this:

Make sure to choose a professional name and one that is easy to remember and easy to spell so that your potential customers can find you easily by just typing your username at the end of Facebook.com/
Step 4: Fill in Your Detailed Page Information
The next thing that you want to do is to fill in the details of your page, the information that potential clients really want to know! Start by filling in your "About" section.
Go to the menu on the left side of the page and find the "About" button. Click this.

Now you will be taken to your "About" page which at the moment should be pretty empty. Start filling in each section of this page beginning with your business and contact info.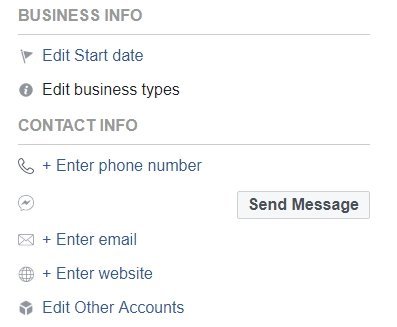 Just click on each link to add the necessary information for your business.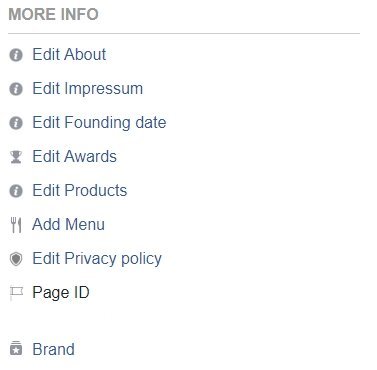 Next, you want to fill out the "More Info" section pictured above.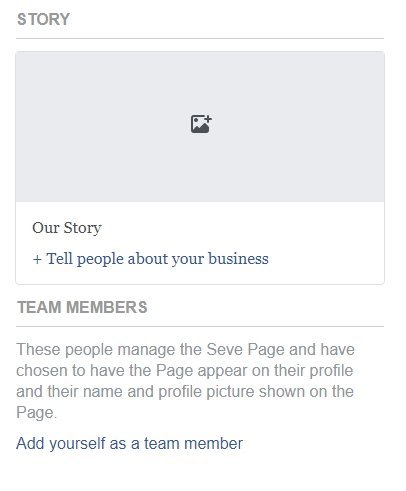 Put some thought into your "Story".  Keep it honest and truthful but make sure that it grabs your possible clients and lets them know what you are all about!
When you've completed the "Story" section don't forget to add team members to your page! You can add any active Facebook user as a moderator, administrator, or user of your Facebook business page, just be sure that it's someone that you trust and that you give them the bare minimum of access that they will need to your page.
Step 5: Check the "Nitty Gritty"

Now that you have completed this section, you want to check that all of the nitty-gritty details of your page are filled in. Do this by finding the link pictured above on the right side of the page titled "Edit Page Info" and clicking it!

From here you are going to be able to select from the tabs pictured above and fill in any missing information for your business. Remember, the more detailed and accurate your information, the better!
Step 6: Configure Your Settings
Another important step in setting up your business Facebook page correctly is to configure your settings. To do this, locate the "Settings" option at the top of your page on the right side. If you don't see this link, type your Facebook business page URL into your browser and hit enter. You should now see that link on the right.

Once you click this link it will take you to a rather overloaded page that looks like this:

From here you can select each menu option on the left side menu and each will bring up a new section on the right side. To edit each of these individual sections, just click the "Edit" link pictured all the way on the right side of the page.
For example, clicking the "General" link on the left side menu will bring up the options that you see on the right side of the image above. Now, if you want to turn on the profanity filter for your page, you would look at the options on the right side section. Notice three selections up from the bottom where it says "Profanity Filter"? To the right of that selection is the "Edit" button. All you need to do here is click that button and it will allow you to change the settings for your profanity filter.
The settings section of your page can be quite time-consuming, but make sure not to skip over any of the options because this is the section that controls who can post to your Facebook page, what can be posted, what is displayed where, etc. Go through EACH menu option on the left side and for each option, thoroughly scan over the options that show up on the right side of the page.
Oh, and don't forget to save any changes that you make!
Do You Need Someone to Help You Create Facebook Business Page?
If you aren't sure you can navigate your way around Facebook or if you simply don't have time to do it yourself, drop me a line. I can not only set up your business Facebook page, but I can also regularly curate it to ensure that your fans always have access to fresh and interesting content!