REPUTATION MANAGEMENT FOR BARS
ORM Service for Bars
Improve search results
Get new customers
Increase reviews
Full-service online reputation management for bars.
Let's Talk!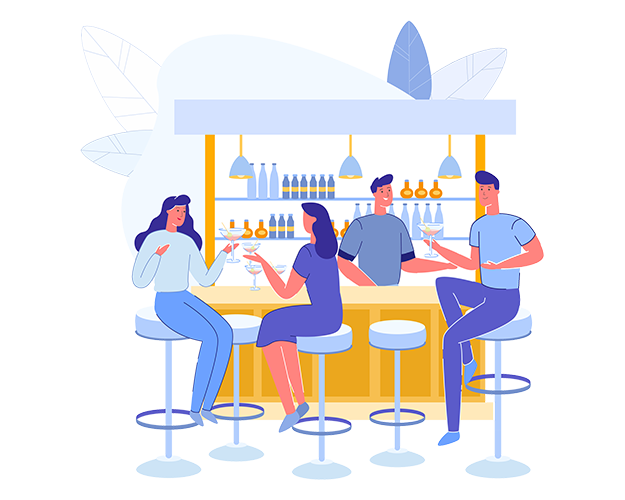 Reputation Management for Bars
Reputation management for bars is a crucial component in gaining the competitive advantage in a cut-throat industry. Why? Because it's a tool that many of your competitors are not yet investing in, yet it's a very efficient way to push your bar to the forefront when it comes to internet presence.
Running a bar, you know that a single bad review or rumor can really impact your bottom-line. Unfortunately, in a world where technology rules and everyone sees themselves as a professional critic, this can open your business up to irreparable damage. Fortunately, reputation management for bars is where people like me excel. It's my business to make sure that the online presence of your bar is a true reflection of the investment that you have made into it.
What We WILL do for your Bar Business
Bar owners that hire us, enjoy the following benefits.
Improved Local Search Results
Improved Google Maps Exposure
Improved Google Ads Performance
Increased Leads (calls, form submissions, purchases)
Increased Customer Reviews
Improved Google My Business (GMB) Results
Monitored Reviews (over 100 websites)
Responses to Customer Reviews
Increased Backlinks
Improved Social Media Interaction
Exclusive Marketing Content
About Our Reputation Management for Bars Service
As a dedicated online reputation management service, we work with a wide range of businesses and the one area where our job as a reputation management strategist has the biggest impact is the bar and nightclub niche.
As a bar owner, your business is often put under the microscope not just by the patrons who frequent it, but also by those who read about it or hear about it from a third party. Ultimately the behavior and opinions of your customers and critics are what shape your reputation.
Fair? No, but then we all know that life (particularly as a self-employed business owner) isn't always fair.
When we take on bar reputation management clients, we work tirelessly to ensure that your voice is heard and that the opinions of your patrons are fairly representative of your business as a whole. By implementing a number of tactics, we create a personable and unbiased image of your business and build brand recognition for your bar. Some of the tools that I use to do this include:
Monitoring and managing your bar's reputation on online forums, review websites, and professional databases.
Interacting with and responding to patron feedback and comments to give your bar a professional yet personable appearance.
Regularly posting custom-written content to promote the highlights of your bar and to show how your bar stands apart from the competition.
Building a visually appealing responsive website design that is compatible with current technology and that gives you a professional edge over other local bars.
Interacting via social media networks and growing your social media audience to spread your influence and SHOW your potential customers that you are making the effort to share, listen, and learn.
Building and maintaining your Google Business Profile to ensure that you portray a reputable presence online.
Managing and optimizing your AdWords PPC marketing campaigns to increase trust in your bar and provide an air of authority.
Optimizing your website and website content for search engines to make sure that your potential patrons understand the services that your bar offers.
When bundled together, these different areas of online reputation management create a solid representation of a quality, personable, and reputable bar and that's what customers want to see!
5 Reasons Why Reputation Management for Bars is Important
While regulars of your business are likely to share their recommendation of your bar with friends, those who have had negative experiences there are even more likely to sound off online. You have to monitor this type of feedback and regulate it to keep your reputation intact.
Bars are often portrayed as communities (which isn't a bad thing!) but patrons also want to know that there's a personable front there too. Someone who notices them and listens to what they are saying.
Responding to reviews and feedback professionally and fairly allows you to show that while your business is "human" you are willing to step up and make things right when necessary.
Regularly posting dynamic and informational content that promotes your bar and highlights your uniqueness lends to your search engine authority and keeps your name at the forefront of the industry.
By establishing and growing your bar's online presence through the services of a digital reputation mgr., you can also extend your social reach. This means more exposure and more clients for your bar.
Online Reputation Management for Bars FAQ
Can I Manage My Own Online Reputation as a Bar Owner?
As a bar owner, you are undoubtedly run off your feet on a daily basis. Between back and forth communication with suppliers, arranging shifts for employees, staying on top of marketing, planning events… To be quite frank, no, you cannot efficiently manage your online reputation and dedicate the time needed to do that while also running a bar. So, you do what you do best and leave the reputation management to us!
Can I Afford Bar Online Reputation Management Services?
Investing in an ORM service is like any other investment made for the good of your business. Invest in a professional manager for your online presence and you'll maintain control of the reigns. Fail to invest in managing your bar's online presence and things can quickly get out of hand at which time, it swiftly becomes too late to resurrect your reputation. That only means one thing – a decline in business.
Why should you put the reputation of your bar in the hands of my reputation management services? Because, just like you, the success of my business relies on my reputation.
As a small business owner, my success is the result of my reputation management campaigns for my own business. Simply put, if I wasn't good at what I do, you wouldn't be reading this right now.